Description
Finally! A toothbrush that's perfect for man's best friend!
Don't kiss your fur baby until after they've chewed on this very handy Dog Brushing Stick.
But then, brush time is often a hassle for both you and your pets. So, here's a wonderful solution for you! Check it out now...
The Dog Brushing Stick is a revolutionary way to clean your dogs teeth! Encourages pets to clean their teeth every day. Designed to clean teeth on both sides and is angled to fit comfortably in your pet's mouth.
Use the Dog Brushing Stick with toothpastes to eliminate tartar/plaque and for fresh breath! 
Let your dog brush with this daily for 5 minutes and see the revolution begin!
This natural rubber dental chewing brush will have your dog cleaning his own teeth while enjoying the feeling of doing so. This will make it easier to make the process a routine.
It is absolutely essential for cleaning hard to reach back molars.

First ever stress-free DIY dental brush for dogs recommended by vets!
Let your fur baby brush their teeth all on their own!
A 100% effortless solution for pet owners worldwide!
Bristle-Lined Grooves AND Pet Toothpaste Reservoir
The

 

toothpaste is released slowly into your dog's mouth

 

as they chew and chew.
Removes food, plaque, cavities, and tartar build-up on the teeth, gums, and tongue!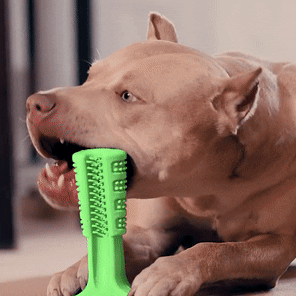 Bite-Resistant — Withstands your doggie's heavy chewing!
Stabilizing Paw Pads — Fur baby can easily hold it when chewing.
Available in Various Sizes
There's a toothbrush

 

for ALL snout shapes and sizes of various dog breeds.
Eco-Friendly & Pet-Safe Material
It's made from

 

all-natural rubber

 

and

 

non-toxic silicone...perfectly SAFE for your furry four-legged companion!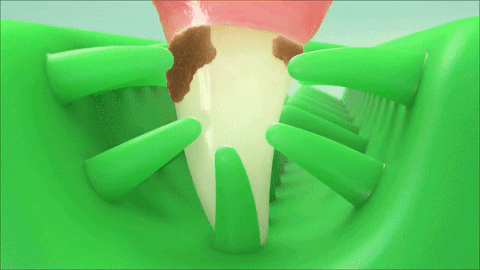 Designed perfectly for your dog's anatomy!
Keep your dog healthy and busy brushing their teeth...

 

without them even realizing it!

 

(wink)
Toothbrushing is not just for humans.
In fact, brushing your pooch's teeth at least once a day is recommended by experts and vets. Four out of five dogs are known to suffer Periodontal disease at the age of 3 years. Don't let your fur baby be one of those four!
Not brushing your pooch's teeth is the number one cause of gingivitis, exhibiting bad breath, inflammation and, in the worst case scenario, deadly oral disease. No fur parent would want that to happen, right?
Let your fur baby chew their cavities away!
It's only natural for dogs to want to chew away their stress. So, why not make them brush their teeth at the same time?
Say goodbye to stressful tooth brushing of your paw friends
with the help of this
Doggie DIY Toothbrush
.
Fun for your dogs, absolutely no hassle for you.
What a perfect concept!
---
PRODUCT SPECIFICATIONS
Material/s:
Pet-Safe Silicone & Rubber
Available Sizes:
S

 

— 7cm x

 

9.8cm x 2.8cm

 

(47g)
M

 

— 8.2cm x 11.5cm x 3.5cm

 

(75g)
L

 

— 10.2cm x 14.5cm x 4.5cm

 

(122g)
XL

 

— 13cm x 18cm x 5.5cm

 

(260g)
Available Colors:
Green / Blue
Package Inclusion/s:
1 pc. Doggie DIY Toothbrush
Click 'BUY IT NOW!' to get yours.